Artificial rocks for your water park, hotel and swimming pools
Slide Srl thanks to its cooperation with the best theme design studios of the country, uses artificial rocks to transform the imaginary into real. Emotions become projects, settings, sculptures, buildings and special places.
What we do
In order to offer increasingly targeted and "turnkey" services, Slide Srl provides its expertise also in the design and implementation of specific settings and themed designs implemented through the use of an innovative technology called GFRC (Glass Fiber Reinforced Concrete).
All this is to build themed settings with the use of Artificial Rocks.
Thanks to the extensive experience of our technicians and artists we are constantly striving to find new and effective solutions for every creative need.
We design and build themed elements such as rocky settings, waterfalls, slides, caves, scenic pools, and more, all of which are unique and original.
If you are interested in receiving a comprehensive consulting service from design to final implementation please fill out the form.
Contact us if you are the owner of a water park: we will create exclusive themed settings with the help of artificial rocks.
Request a quote today.
Ask for more information on artificial rocks for your water park or request a consultation for your project
Fill out the form, we will reply within 4 days
Artificial rocks and Glass Fiber Reinforced Concrete or GFRC
GFRC, by its abbreviated name, is a conglomerate consisting of Portland cement with silica sands and appropriately cut fiberglass.
The fiberglass used is "A.R." type (Alkaline — Resistant).
GFRC surfaces are made by spraying mortar and fiberglass into molds of the desired size and shape.
The application equipment provides for the simultaneous spraying of the mortar and the projection of the "AR" fiberglass cut in a length of 2.5/3cm.
The architectural panels made of GFRC have a thickness of 12 mm with gray or white cement.
The benefits of this are that the additional load on the building structure, as well as on the foundation, is minimized, and it also increases the maneuverability and ease with which this material is installed at the job site.
Because fiberglass reinforced concrete is a completely inorganic material, it is completely non-combustible so it has no impact on the fire load of the building.
Artificial rocks or rock settings are now part of any modern water park. It is no coincidence that the idea at the basis of each water park features different designs that distinguish each site.
The themed settings that are possible to create with GFRC elements, or with reinforced mortar sculpted on site and then sprayed with epoxy resins, lead to each element, rock, cave, or other, to become an environment perfect to recreate natural settings in architectural terms, all different from each other.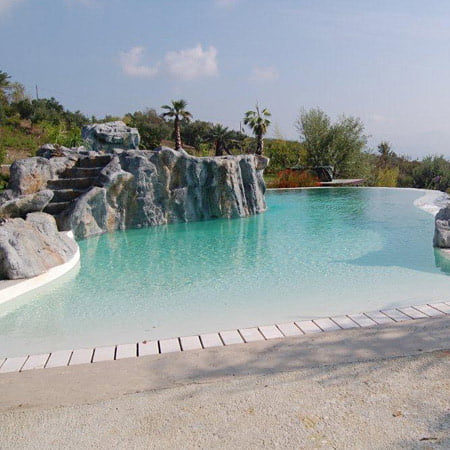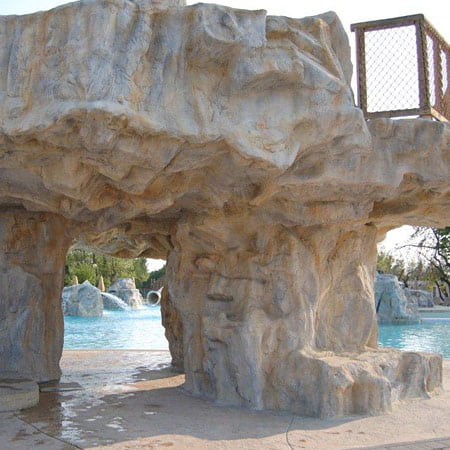 The use of artificial rocks
The importance is not only tied to the initial concept of the project, but it also has the goal of hiding or harmonizing environments that, if left without theme, would not stand out on their own.
Artificial rocks are used for various reasons: to create rocky environments, to decorate water slides, to create columns, to decorate wellness environments, and more.
To create a "real looking" setting, it is necessary to make it blend with the surroundings so that it can become a key element of the environment.
This added value can be achieved with the right mix of elements that, placed in strategic locations, can enhance each one: the overall architecture and vegetation, rocks and water, lights and colors.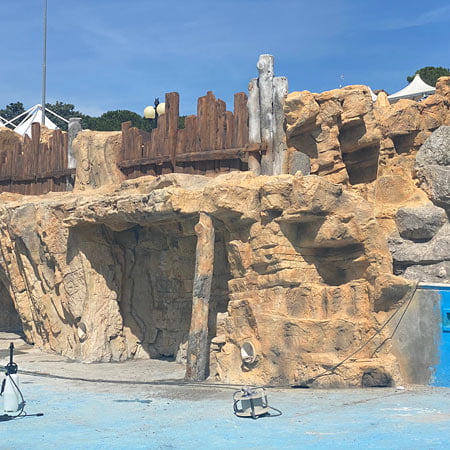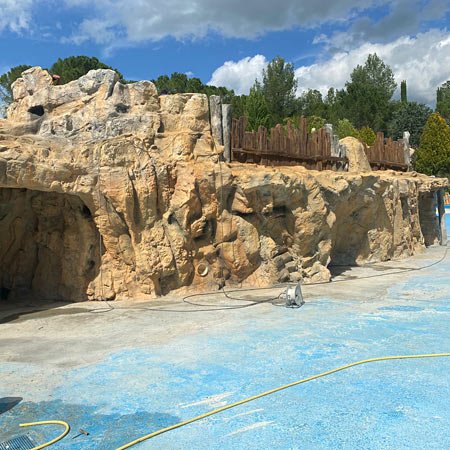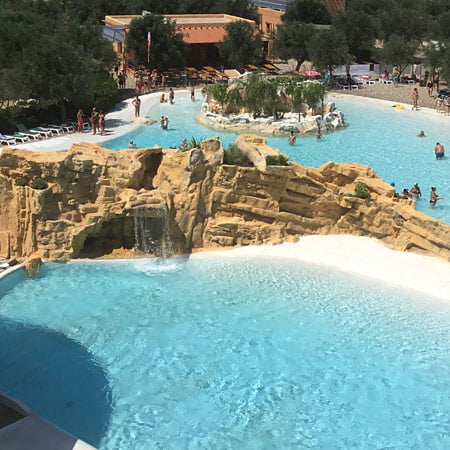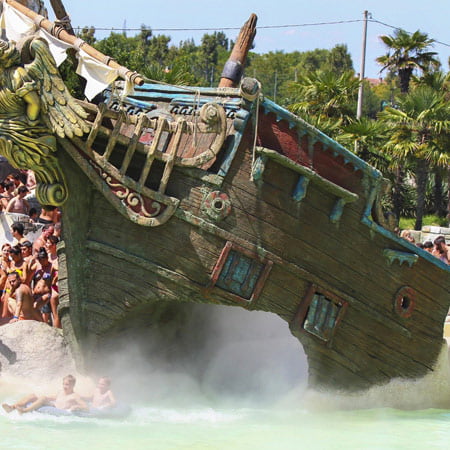 GFRC Characteristics
GFRC by its nature and method of application is an extremely versatile material applied in architectural design to create a variety of elements and it features:
Lightness (30/50 Kg./sq.m.)
Overall cost effectiveness of application
Fire Resistance
Waterproof
Excellent resistance to airborne chemicals
Ease of installation
Low maintenance
Wide range of finishes
GFRC Mechanical Characteristics:
| | |
| --- | --- |
| Fiber content | % of weight 5 |
| Density | tons/cubic meters 1.9–2.1 |
| Compressive strength | N/mm2 50–80 |
| Resistance and bending | N/mm2 8–11 |
| Resistance (Izod test) | N/mm2 10–25 |
| Elasticity limit | kN/mm2 7–11 |
| Poisson's Ratio | 0.20–0.25 |
| Sagging Stress Ratio | % 0.60–1.2 |
| Interlaminar shear strength | N/mm2 3–5 |
| Flat shear strength | N/mm2 8–11 |
Slide is a turnkey general contract offering a variety of services to the final customer.
The goal is to guide customers to the finalization of their projects, thus entrusting to Slide the search and supervision of suppliers. In this manner, the customer does have to be involved directly.
It is worth mentioning that the company boasts a strong cooperation with some of the best theme design studios and has available a full network of selected suppliers for pools, water slides, and water games. All this is thanks to the numerous professional companies selected over the years.
If you are the owner of a water park, resort, hotel or tourism village interested in creating a realistic looking setting with artificial rocks for your facility, contact us today.
Request a quote for your project.
A general contractor is a party selected by the final customer to optimize all the construction processes. If you want to learn more about this topic you can click here.