Baby Wide Slide water slide as a magic flying carpet
The Baby Wide Slide water slide is all about fun rides for multiple kids at the same time along a track shaped like waves.
This allows them to experience the thrill of flying on a magic carpet.
The water slide can be used both free-body and with an individual dinghy.
The support structure is in hot-dip galvanized steelwork.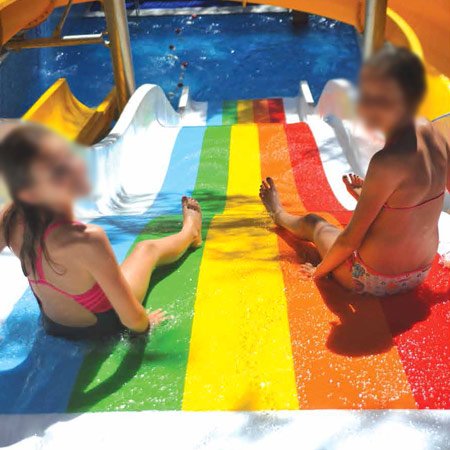 Technical specifications
Diameter mm:
550 x 2000 Ø
Request more information on the Baby Wide Slide water slide or other water slides. You can also request a consultation for your park or project
Fill out the form, we will reply within 4 days
Baby water slides dedicated to children
Browse also the other water slides dedicated to children and part of the Baby water slides line:
They are all products that can offer thrilling rides in full safety.
Water slides, design, installation and testing
Slide designs and manufactures water slides for installation in water parks, tourism villages, hotels, and public and private swimming pools.
The range of products offered is vast and split into lines that can meet the water entertainment needs of the whole family.
The slides can enjoyed free-body, with the use of dinghies, or mats while others are dedicated exclusively to children and water games.
Visit the water slides section: you will certainly find the product that suits your needs.
There are free body water slides, adrenaline-rush water slides, closed section water slides with dinghy use, family and rafting water slides, and iconic water slides.
We would also like to remind you that Slide Srl offers a full consultancy service thanks to its General Contractor status. The Company can manage a project from business plan to plant testing.
A water slide is a recreational equipment made of a fiberglass tube usually with a diameter of 80 cm. It is usually found in water parks, but not only.
For more information you can click here.