Baby Multislide for free body ride challenges
The Baby Multislide water slide is part of our water slides dedicated to children.
It is a classic in water parks and one of the most popular.
Created with multiple tracks, the water slide forms a course along which children can simultaneously challenge each other with free body rides.
The slide can be combined in a thousand different ways to bestow a touch of originality and creativity.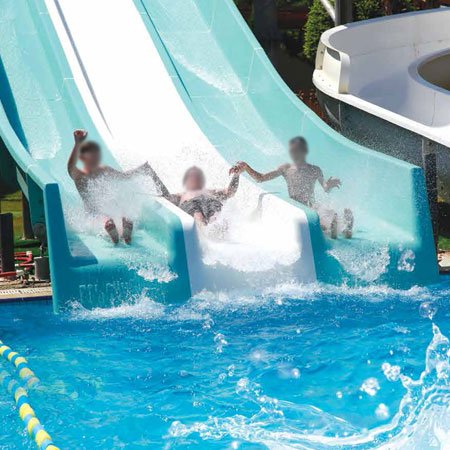 Technical specifications
Diameter mm:
550 x 20 x 80 Ø
Ask for more information on our Baby Multislide water slide or other water slides or request a consultation for your park or project
Fill out the form, we will reply within 4 days
Baby water slides dedicated to children
Are you the owner of a water park, a hotel, a swimming pool, or a hospitality facility?
Do you need to restyle your water attractions and buy new water toys for children?
Are you unsure about what equipment to install?
Start by browsing all the additional slides dedicated to children part of the Baby water slides collection:
These are all products that can make kids enjoy exciting emotions in full safety.
Slide Srl can help you by offering a complete consultancy service thanks its General Contractor status.
Fill our the contact form and request a personalized consultation. We will be glad to help you.
Water slides for water parks and beyond
Slide designs and manufactures water slides to be installed not only in water parks but also in tourism villages, resorts, hotels, and public and private swimming pools.
The Company offers several products, split into lines, that can meet the water entertainment needs of everyone.
Visit the section dedicated to water slides. There you will certainly find the right product for your needs.
There are free body water slides, adrenaline rush water slides, closed section water slides with dinghy use, family and rafting water slides, and iconic ones.
What exactly does the term general contractor mean? A general contractor is a party selected by the final customer to optimize all the construction processes. If you want to learn more about this topic you can click here.