Baby Kamikaze water slide suitable for children
The Baby Kamikaze straight water slide offers entertainment to even the youngest children in full safety.
It is available in 2 main configurations (monoblock or Baby Toboggan section).
The height of the water slide is within 3 m with the possibility of adding a ladder and wooden launch platform or in galvanized steel (customizable colors). The support structures of the water slide are in stainless steel or galvanized steel.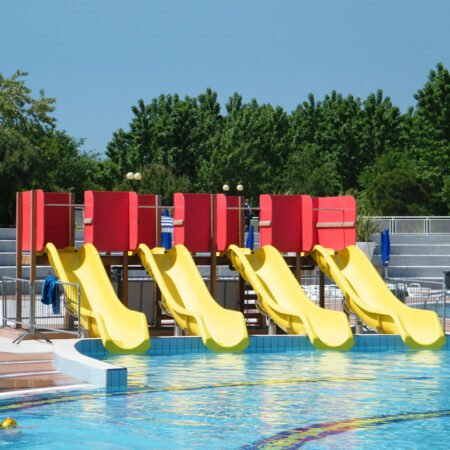 Technical specifications
Diameter mm:
50 x 650 x 93 Ø
Ask for more information on the Baby Kamikaze water slide or other water slides. You can also request a consultation for your park or project
Fill out the form, we will reply within 4 days
Baby water slides dedicated to children
Below are the other slides designed for children and part of the Baby water slides:
These are products that can offer great emotions in full safety.
Water slides, from design to installation
Slide designs and manufactures water slides for installation in water parks, tourism villages, hotels, and public and private swimming pools.
The products are many and can meet the need for water entertainment of the whole family.
The slides can be enjoyed free-body or with the use of dinghies or mats.
In the water slides section you can find all the products split into lines.
There are free-body water slides, adrenalin-rush water slides, closed section water slides with dinghies, family and rafting water slides and iconic ones. There are also baby water slides, including Water Playgrounds and water toys for children.
Moreover, Slide Srl can offer a full consultancy service thanks to its General Contractor status. The Company can manage a project from business plan to plant testing.
What exactly does the term general contractor mean? A general contractor is a party selected by the final customer to optimize all the construction processes. If you want to learn more about this topic you can click here.