Tornado, an extreme and fun water slide
Tornado is a fun and thrilling water slide.
It is designed for a crew of two.
Its ride simulates the thrill of climbing up and down a mountain wall reaching it from a large vertical channel. Users get there at high speed, then end up in a wide Grand Canyon of sorts.
The ride ends in the pool.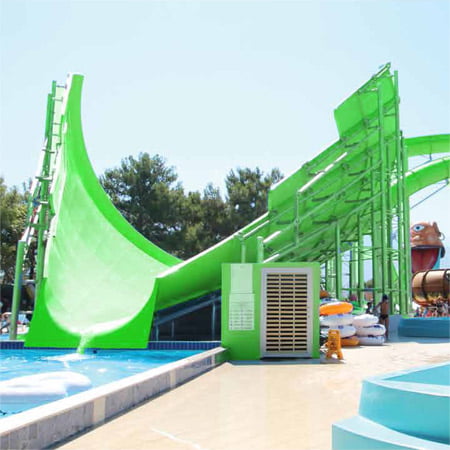 Technical specifications
Diameter mm:
1400 Ø
Ask for more information on the Tornado water slide, or other water slides or request a consultation for your park or project
Fill out the form, we will reply within 4 days
Water slides to enjoy with the whole family
Slide designs, manufactures and installs water attractions for the whole family, including children.
Water slides that can be found in water parks, resorts, hotels, and public and private swimming pools.
The products are split into different lines. They can be enjoyed free-body or with the use of individual or two-seater dinghies, or with a mat. Other water slides are dedicated exclusively to children and water games.
Go to the water slides section and browse the full product range that Slide offers to its customers. These products can meet even the most unique needs.
A water slide is a recreational equipment made of a fiberglass tube usually with a diameter of 80 cm. It is usually found in water parks, but not only.
For more information you can click here.