Hill Slide, a popular, extreme and fun water slide
Hill Slide resumes where Wave Ride left off, with the only difference of having just one wave phase.
Users, on rubber dinghies, ride the slide from one end to the other at high speed, finishing in the central section at the end of the ride.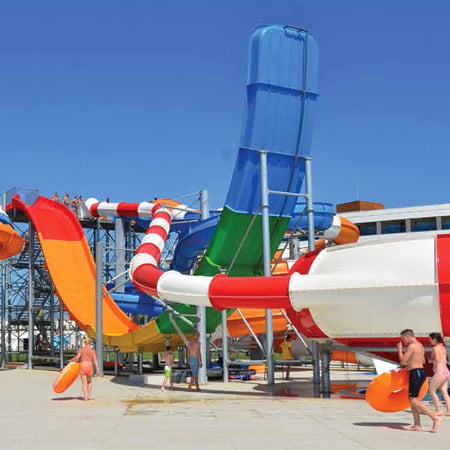 Technical specifications
Diameter mm:
3000/4000 x 550 Ø
Request more information on the Hill Slide water slide or on other water slides. You can also request a consultation for your park or project
Fill out the form, we will reply within 4 days
Water slides: fun for the whole family
Slide designs, manufactures and installs not only extreme water slides but also attractions for the whole family, including children.
The water slides can be found in water parks, resorts, tourism villages, hotels, and public and private swimming pools.
The range of products available is vast and split into lines. They can be used free body or with dinghies, while others are dedicated exclusively to children and water games.
Visit the water slides section for an overview of the products offered by Slide. All products meet even the most unique needs.
A water slide is a recreational equipment made of a fiberglass tube usually with a diameter of 80 cm. It is usually found in water parks, but not only.
For more information you can click here.